These best local Balinese restaurants in Ubud serve as great additions to this popular highland destination's vibrant dining scene, a melting pot of cultures and cuisine with classy restaurants set in perfect harmony with local warungs (small traditional diners run by locals and serving day-to-day meals). They welcome customers of all kinds and budgets, and welcome you to pop in and dine casually over exotic flavours through authentic dishes.
The good variety lets you explore a vibrant food-scape, especially if you are out for some culinary discoveries, from the world-famous babi guling and juicy slow-cooked betutu chicken or duck, to nasi campur mixed rice plates, grilled satays and other hearty meals all on the cheap. From roadside shack-style venues with simple wooden tables and benches, to modern but cheap diners that focus on food over style, these are great places to eat local in Ubud. Bon appetit! Or, as the locals say, "selamat makan!"
Interested in this tour? Book it here.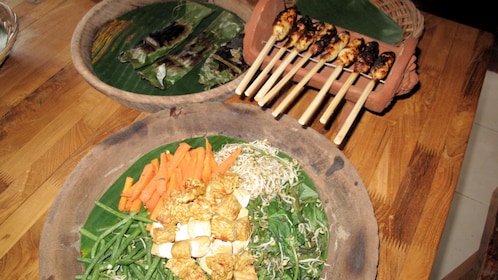 per adult
Free cancellation
Book
East from Ubud proper, on Jalan Raya Goa Gajah, is Bebek Tepi Sawah - a locally-owned restaurant that welcomes you to dine amid an expanse of rice paddies, with a selection of authentic Balinese dishes. Highlighted specialties include crispy fried duck and smoked chicken served with stir-fried water spinach and sambal sauce. Main dishes range between USD 4 and 7 (IDR 51,000 and 95,000). Dinners are livelier with Balinese dancers, performing from 19:30 onwards. Read More...
Opening Hours: 10:00-22:00
Location: Jalan Raya Goa Gajah, Banjar Teges, Peliatan, Ubud
Tel: +62 (0)361 975 656
Dubbed the 'Dirty Duck Diner', Bebek Bengil is one of Ubud's best known spots, specialising in Bali's 'original crispy duck since 1990'. Besides the main dish of fried duck for USD 9 (IDR 125,000), the menu also has a range of satays and smoked versions of its duck and chicken that require advanced bookings. The menu even presents some Indonesian favourites such as nasi goring, as well as some western dishes. Read More...
Opening Hours: 10:00-22:00
Location: Jalan Raya Goa Gajah, Banjar Teges, Peliatan, Ubud
Tel: +62 (0)361 975 656
The legendary Murni's Warung has maintained much of its charm and appeal for visitors to Ubud since the '70s. Here you can enjoy great local coffees and traditional Balinese cuisine while looking out over the southern end of the Campuhan river valley. The menu offers a good mix, with must-tries that include a bebek betutu rice plate served with fragrant turmeric rice and traditional Balinese 'urap' fresh salad mix at USD 7 (IDR 97,000). Read More...
Opening Hours: 08:00 - 22:00
Location: Campuhan Bridge, Jalan Campuhan, Ubud
Tel: +62 (0)361 972 146
Naughty Nuri's is another of Ubud's popular little warungs, serving premium grilled pork ribs. Besides the main highlight of succulent baby ribs generously doused in a wonderful homemade, sweet barbecue sauce blend, and cooked at its small roadside grill that invites passers-by, you can also order other local favourites such as nasi and mie goreng, and a selection of well marinated and freshly grilled satays. BLTs, burgers and steaks are also available. A cold Bintang is standard, however signature libations include Nuris' vodka martini with olives. Read More...
Opening Hours: 10:30-22:30
Location: Jalan Raya Sanggingan, Ubud
Tel: +62 (0)361 977 547
Although there are numerous local warungs serving famous babi guling whole spit-roast pork, this particular spot gets most attention due to its convenient central location, just beside the Ubud community hall and across from the Puri Saren royal palace. It always seems packed. The standard serving is a plate of steamed white rice topped with strips of juicy roast pork, a veggie and shredded coconut mix and chillies, sliced pork sausages and crackling skin (up to USD 5 or IDR 70,000 per serving). Read More...
Opening Hours: 11:00 - 15:00
Location: Jalan Suweta, Ubud
Tel: +62 (0)361 976 345
6
Nasi Ayam Kedewatan Bu Mangku
Ubud
This popular warung on the Kedewatan main road serves Balinese-style chicken rice or nasi ayam, with customers mainly consisting of drivers and tour guides who stop by and dine with much gusto over the spicy strips and chunks of chicken, soft steamed rice, fish wrap-style satays, deep-fried crispy chicken skins, half a slice of boiled and sambal-topped egg, and a salad mix of shredded coconut, chopped long beans and salted roast nuts. Beware: spiciness levels are typically high. You can always ask for a non-sambal serving, as well, if you can't take the heat.
Location: Jalan Raya Kedewatan, Ubud
Tel: +62 (0)361 974 795
Laka Leke highlights cultural dinner experiences with its regular live Balinese dance performances and an outdoor setting with Balinese-style thatch-roofed pavilions set around rice paddies. Enjoy their Indonesian buffet or a la carte menu items such as nasi campur mixed rice, the signature crispy-fried duck and satay varieties. Read More...
Opening Hours: 20:00-24:00
Location: Jalan Raya Nyuh Kuning, Ubud
Tel: +62 (0)361 977 565
For a cheap place to eat in the Peliatan area, just southeast of Ubud central, this warung is a good stopover. It serves nasi campur with a varied choice of toppings, and locals mainly favour its homemade sambal that uses pungent wild torch ginger among its main ingredients. The warung is relaxed, and service by their Balinese owners is fast and friendly. Their fresh servings usually get sold out early, right after lunch time.
Opening Hours: 08:00-15:00
Location: Jalan Cok Rai Pudak, Peliatan, Ubud
Tel: +62 (0)361 975 251
Warung Pulau Kelapa serves a great variety of Indonesian dishes, from nasi campur, soto ayam kampung chicken soup, iga penyet grilled beef ribs, and nasi campur, all made with fresh ingredients. A slight departure from the spicy Balinese cuisine, the spiciness levels of the cuisine served here will appeal to foreign palates. Prices range between USD 1 and 4 (IDR 10,000 - 40.000) per item.
Opening Hours: 10:00-23:00
Location: Jl. Raya Sanggingan, Lungsiakan, Kedewatan, Ubud, Kab. Gianyar, Bali 80561
Tel: (0361) 971872
Tucked away on Jalan Goutama in central Ubud, Warung Biah Biah is a favourite among long-staying guests, serving small plates such as chicken satays, nasi campur and several variations of nasi goreng fried rice. Other must-try favourites include the bubur ayam porridge that is a common breakfast dish for locals, served with generous chunks of chicken, rice vermicelli and veggies at USD 2 (IDR 18,000).
Opening Hours: 11:00-23:30
Location: Jalan Goutama no. 13, Ubud
Tel: +62 (0)361 978 249
Rate This Place:
( votes)