Balinese cooking classes have become increasingly popular as the island's tropical cuisine gains wider appeal thanks to its rich ingredients, changeable spiciness levels for every palate, and fun preparation techniques. Courses are often packaged with early morning fish and farm market tours that let you discover the variety of fresh tropical sea creatures, meats, poultry, aromatic exotic spices and organically grown tropical fruits before your hands-on experience in recreating age-old traditional dishes – from satay varieties, fresh salad mixes with spicy sambal sauces and dips, to a range of healthy desserts. Here are Bali's top spots that provide fun cooking courses for a different culinary experience, and from where you can bring home some exciting Balinese recipes and newly acquired skills.
Interested in this tour? Book it here.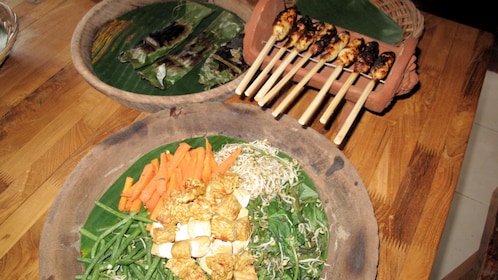 per adult
Free cancellation
Book
Iboe Soelastri's cooking class at Hotel Tugu Bali should be on your shortlist of things to do in Canggu, especially if you're keen on trying out local flavours and learning about the exotic spices and ingredients, age-old techniques and preparations that make up heritage Indonesian cuisine. The best thing about Iboe Soelastri's cooking class is that, after a tour of the island's traditional markets, you are then taken back in time in an immersive, classically-designed kitchen complete with wood-fired stoves, antique wooden furnishings and earthenware of old. Read More...
Location: Tugu Hotel Bali, Jalan Pantai Batu Bolong, Canggu
Tel: +62 (0)361 4731 702
2
Bumbu Bali
Pioneering Cooking Classes - Tanjung Benoa
Brainchild of Heinz von Holzen, a former five-star resort Executive Chef and author of numerous pioneering books on Balinese cuisine, Bumbu Bali is one of the foremost cooking classes on the island and it offers a fun introduction to the exotic ingredients and Bali's unique culinary heritage. As a participant you'll start off early for a morning visit to the Jimbaran fish and village market, hosted by Heinz himself, shopping for the many ingredients to bring back to the Bumbu Bali class in Tanjung Benoa. Back from the brief morning tour, you'll enjoy a light breakfast of traditional cakes, fruits, and Balinese black rice pudding and rice flour dumplings. At approximately 09:45 the recipe copies are handed out and the cooking fun begins, and at lunchtime, your creations are served with more insights and reviews. The day concludes with your Balinese Master Chef's certificate presentations and a class celebration. Read More...
Location: Jalan Pratama, Tanjung Benoa, Nusa Dua
Tel: +62 (0)361 771 256
Former five-star resort Executive Chef Penny Williams continues to share her passion for East Bali and Balinese cuisine with her restaurant and cooking school Bali Asli, located in the Gelumpang village of the Karangasem, an approximate two-hour drive from the airport and main tourism areas on the island's south, and half-an-hour from East Bali's favourite sites of Candidasa and Amed. By embracing the local communities of fishermen and farmers, Bali Asli promotes the island's cuisine and gives back to the locals. With a traditional Balinese-style kitchen complete with wood-fired mud brick stoves, Bali Asli provides cooking classes that include more than just tours to local village markets. As a participant you also get to embark on mini adventures to exotic places off the beaten track, such as observing rice planting or 'steering' Balinese cows ploughing the rice fields, as well as going out to sea in a jukung outrigger for the catch, and cooking on an open fire. It's also one of the few places where you can learn to make cocktails from cashew nut wine. Read More...
Location: Jalan Raya Glumpang, Amlapura, Karangasem, East Bali
Tel: +62 812 339 473 38
A culinary institution in Ubud, Casa Luna with its guesthouses and cooking school are the brainchild of Janet de Neefe, a naturalised Balinese and lover of the island's cuisine who has published a series of memoirs and cookbooks, and who is also the founder and driving force behind the annual Ubud Writers & Readers Festival. The classes, conducted by Janet herself, take place at one of the enterprise's Honeymoon Guesthouses on Jalan Bisma, southwest of the royal palace and main Ubud hub. Besides learning about the exotic herbs and spices used in the traditional cuisine, you'll also learn specific references to the role and significance of food in Balinese society and the colourful ceremonies. Cooking guides also throw in local knowledge and personal experiences to the course, adding depth and insights to the whole experience. You'll actively help prepare your own lavish Balinese feast, to be enjoyed with a glass or two of local rice wine or homemade hibiscus tea. Casa Luna Cooking School provides different choices of schedules, from long table dinners, classes with morning market tours, to special dish highlights such as a Sunday twilight smoked duck class. Read More...
Location: Honeymoon Guesthouses, Jalan Bisma, Ubud
Tel: +62 (0)361 973 282
Part of the Anika accommodation and dining enterprise in Tuban, Anika Cooking Class offers sessions that let you discover traditional techniques and the variety of herbs and spices in a modern restaurant setting. Its makeshift pantry corner mimics a traditional Balinese kitchen with decorated interiors and displays showing traditional ingredients and utensils. An early morning tour takes you to the village market in Kuta where you'll learn some useful tips on selecting the best spices and ingredients. Back to Anika's kitchen in Tuban, you'll enjoy a breakfast of traditional cakes before the cooking class begins. Besides learning about the process and ingredients, you will also pick up new techniques using the various utensils. By lunchtime, you'll enjoy your creation of nine main Balinese dishes and one traditional dessert, accompanied by hibiscus tea and Balinese rice wine. An evening cooking class is also available that starts at 15:00 and concludes with dinner, and does not include market tours. Read More...
Location: Jalan Elang No.3, Komplek Bunang, Tuban
Tel: +62 (0)361 936 613 3
The Balinese cooking class at The Amala is a great option if you're up for some learning fun in local culinary arts while in Seminyak. The class is one of the great activities that both in-house and outside guests can experience at the resort. Classes are held at the resort's Bamboo Restaurant, and are conducted by resident Balinese chef Wayan Putra who's passionate about his island's heritage cuisine, and keen on sharing the secrets and techniques. Unlike other cooking classes, it doesn't include trips to a fresh market – you simply put on an apron and get straight into cooking. Read More...
Opening Hours: 11:00-18:00
Location: The Amala, Jalan Kunti I, Seminyak
Paon Bali Cooking Class is a great activity for foodies, especially for those interested in learning more about the varied ingredients and unique techniques that go into preparing traditional Balinese cuisine. The classes are hosted by Balinese couple, Wayan and Puspa, in their Balinese home that's located in the cool and quaint upland village of Petulu, around a 10-minute drive up from the Ubud central via Jalan Raya Andong or the Jalan Raya Ubud main street that runs through the hub of town. Read More...
Opening Hours: 07:00-22:00
Location: Jalan Raya Laplapan, Petulu, Ubud
Jambangan Bali Cooking Class is a popular cooking class in the cool and scenic highland village of Tegallalang, around 15 minutes' drive up from the main hub of Ubud. The cooking class introduces you to tropical herbs and spices, as well as the exotic ingredients involved in traditional Balinese cuisine. Also, unique to Jambangan Bali Cooking Class, is that they make their class sizes considerably small, to allow for better interaction and hands-on experiences, as you'll be learning to cook up your own meals. The impression of you merely watching a cooking demo is put to a minimum. Read More...
Opening Hours: 08:30-15:00
Location: Jalan Kelabang Moding, Tegallalang, Ubud
Lobong Culinary Experience offers Balinese cooking classes and cultural encounters in the upland village of Kedewatan, around 15 minutes' drive northwest from the main Ubud hub. It offers you a hands-on approach to learning about the island's heritage cuisine, with classes held within a well-kept traditional Balinese family compound, and hosted by the charming owners themselves. Besides cooking classes, also offered are nature treks through the village's surrounding rice paddies, as well as visits to a local priest's home to learn about Balinese astrology. Read More...
Opening Hours: 08:00-22:00
Location: Jalan Raya Kedewatan, Kedewatan, Ubud
Tel: +62 (0)812 3651 778
A humble little Balinese 'warung' or traditional diner, on the otherwise luxury dining-lined Jalan Petitenget, is Warung Eny. It may seem a very local setup but, surprisingly, it is a popular spot that has attracted guests from all over the world, mostly those who are simply looking for something authentically Balinese amidst the big and fancy Western restaurants. And most importantly, Warung Eny shares valuable knowledge through its cooking classes. Self-dubbed as the 'Love Cooking School' by its namesake founder Ibu Eny and her husband Wayan, Warung Eny is the best local family run enterprise in Seminyak to learn about and enjoy authentic, local homemade cuisine. Their garden-green warung displays fresh organic produce that goes into their cooking, and Eny and her family work as a team and welcome anyone who wishes to learn about their food. Besides learning new techniques and blending spices in the kitchen with Eny and her daughters, guests have fun in turning and basting their king prawns at the front smoking grill for a fun roadside evening barbecue. Read More...
Location: Jalan Petitenget 97, Kerobokan
Tel: +62 (0)361 473 6892
Rate This Place:
( votes)