The best things to do in Ubud include exploring ancient temples and majestic age-old royal palaces, as well as green hillsides and rice terraces. A treasure trove of cultural landmarks, this Balinese town and its outskirts within the Gianyar regency, is where some of the world's notable artisans and collectors have visited and worked in.
Most of the local museums and galleries are along the main Jalan Raya Ubud. There are plenty of natural landscapes and attractions that are within a short drive outside the town centre. Prominent landmarks in Ubud include the Tegenungan Waterfall, Ubud Monkey Forest, and the photogenic Tegallalang rice terrace.
Interested in this tour? Book it here.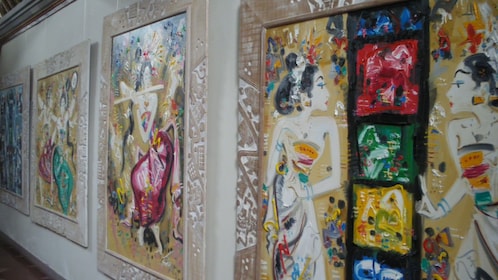 per traveler
Free cancellation
Book
The Ubud Monkey Forest, located on the fringes of central Ubud, is home to over 700 long-tailed macaques. This natural sanctuary is perhaps the best known in Bali thanks to its community-based management, location and ease of access. Overseen by the Padangtegal village, Ubud Monkey Forest is a place of scientific research and a site of spiritual and cultural aspects, as there are sacred temples sanctified by local villagers. The Ubud Monkey Forest is also called the Sacred Monkey Forest of Padangtegal, and, by its official designation, Mandala Wisata Wenara Wana. Read More...
Opening Hours: Daily from 8.30am to 5.30pm
Location: Jalan Monkey Forest, Ubud, Gianyar, Bali 80571, Indonesia
Tel: +62 (0)361 971 304
The Tegallang rice terrace is famous for its scenic stopover, where travellers to Ubud stop by for snapshots of its terraced landscape. Bali's traditional, centuries-old cooperative irrigational system (known as subak) has created some of the most beautiful terraced landscapes in Southeast Asia.
The quaint village of Pakudui is close to the Tegallang rice terrace. You can find a variety of ornamental woodwork and various carvings of mythical figures. Many souvenir stalls line the ledge of Tegallang, where you can pick up some gifts before continuing your journey to Ubud's main centre. Read More...
Location: Jalan Raya Tegallalang, Tegallalang, Gianyar, Bali 80561, Indonesia
Goa Gajah is one of the island's most impressive archaeological sites. Also known as the Elephant Cave, the complex is 300 metres west of the Bedulu village, a region famous for its collection of historical sites, and about 5 km southeast of central Ubud.
When you're at Goa Gajah, walk down a flight of stairs to discover a relic-filled courtyard and the main 11th-century cave. The entrance to the cave features a carving of a wide-eyed figure, while inside are rock-wall carvings and a meditational site. Goa Gajah also has a Hindu temple and an impressive communal pool with stone sculptures and fountains, excavated back in 1954. Read More...
Location: Bedulu Village, Jalan Raya Goa Gajah, Ubud, Bali, Indonesia
Puri Saren Agung is the palace of the Ubud royal family, making it one of the most prominent landmarks in Ubud. Featuring well-preserved Balinese architecture and a charming garden setting, it was built during the lordship of Tjokorda Putu Kandel (1800–1823), and is well-kept by his heirs.
The Ubud Royal Palace is best known among lovers of Balinese arts as one of the main sites to view traditional dance performances. Every evening, Puri Saren Agung's performance stage, with a backdrop of ornate angkul-angkul (traditional gate and guardian statues), hosts performances with gamelan percussive orchestras. Read More...
Opening Hours: Daily from 8am to 7pm
Location: Jalan Raya Ubud No.8, Ubud, Gianyar, Bali 80571, Indonesia
Campuhan Ridge Walk offers an escape from the contemporary boutique, guesthouse and restaurant-lined Jalan Raya Ubud. The 9-km-long trail starts off from the scenic Gunung Lebah Temple, passes over the lush valley of the Sungai Wos River, and continues towards the hills of Payogan. Most of the time you'll have the path to your own, but you'll possibly meet a few trekkers and joggers along the way. Campuhan Ridge Walk is a free and easy nature trek, popular among repeat visitors to the central highland town of Ubud. Read More...
Location: Jalan Raya Campuhan, Sayan, Ubud, Gianyar, Bali 80571, Indonesia
The Ubud Art Market is a good place to find beautiful silk scarves, lightweight shirts, statues, kites, handmade woven bags, baskets or hats and many other hand-crafted goods. Locally known as Pasar Seni Ubud, it's located opposite Puri Saren Agung (Ubud Royal Palace).
There are plenty of the common items that you'll find all around the island, including beach clothes and shirts printed with "Bali" on them, as well as ikat (woven) skirts, Balinese-style paintings, woodcarvings and woven baskets. Most of the goods found at the Ubud Art Market are made in the neighbouring villages of Pengosekan, Tegallalang, Payangan and Peliatan. Read More...
Opening Hours: Daily from 8am to 5pm
Location: Jalan Raya Ubud, Ubud, Gianyar, Bali 80571, Indonesia
Blanco Renaissance Museum was the home and studio of Philippine-born maestro, Don Antonio Blanco. Located on a hilltop overlooking the lush valley of Campuhan, it houses paintings, collages and illustrated poetry, together with lithographic artworks of his favourite subject: nude Balinese women.
Blanco Renaissance Museum offers guided tours throughout the day, with the artist's family members as the hosts you if you're lucky. The thought-provoking collections, lush garden surroundings, and onsite cafe offer a nice stopover for your Ubud trip. Read More...
Opening Hours: Daily from 9am to 5pm
Location: Jalan Raya Campuhan, Sayan, Ubud, Gianyar, Bali 80571, Indonesia
Tel: +62 (0)361 975 502
Pura Taman Saraswati is a beautiful water temple that makes for a great highlight on your walks through Ubud town. This popular photo spot has classical Balinese temple architecture and a beautiful foyer with ponds filled with pink lotuses. Entry is free but, as with any temple visit in Bali, you're required to wear a sash and sarong around the waist. Traditional dance performances take place at the temple's amphitheatre every evening. Saraswati Temple Ubud is accessible from the Jalan Kajeng side street, off the main road of Jalan Raya Ubud. Read More...
Location: Jalan Kajeng, Ubud, Gianyar, Bali 80571, Indonesia
Bali Bird Park covers 20,000 sq m of fine tropical gardens and an onsite aviary that's home to almost 1,000 exotic birds of 250 species. Many of these birds come from the Indonesian archipelago, South America, the African Savannah, and Australia. The family-friendly attraction is located in the village of Batubulan, about 11 km south of Ubud.
Serving as a fun and attractive playground for bird lovers, Bali Bird Park hosts animal feeding sessions throughout the day. There are also several reptiles living in the park, including Komodo dragons. Bali's famous kecak (fire dance) performances take place at Bali Bird Park amphitheatre. Read More...
Opening Hours: Daily from 9am to 5.30pm
Location: Jalan Serma Cok Ngurah Gambir, Singapadu, Batubulan, Sukawati, Gianyar, Bali 80582, Indonesia
Tel: +62 (0)361 299 352
Tegenungan Waterfall is located halfway between Ubud and Bali's provincial capital of Denpasar. Getting to the falls from Ubud is a pleasant 30-minute drive down paved village roads lined with stretches of green rice fields on both sides.
Entrance to the falls is where you'll find ticket booths, art and souvenir shops, together with warungs (local food stalls) selling snacks and cold drinks. From there, it's about a 5-minute walk to reach the falls. Dense foliage frames the cascading waters of Tegenungan Waterfall, and the water volume is impressive at almost any time of year. Read More...
Location: Jalan Ir. Sutami, Kemenuh, Sukawati, Sukawati, Gianyar, Bali 80581, Indonesia
Rate This Place:
( votes)