Ubud best restaurants are a fine selection from the area's wealth of dining venues. Ubud offers from traditional village roadside stalls selling local fare to modern fine dining restaurants – plus there are acclaimed ones that offer experiences featuring French culinary techniques and presentations but inspired by traditional Balinese recipes. Bali's central highlands are also blessed with majestic views.
The main street of Jalan Raya Ubud, down to the quieter and smaller connecting streets of Jalan Hanoman and around Jalan Monkey Forest, feature an eclectic mix of restaurants, while Tegallalang and Jalan Raya Sanggingan are dotted with a few top venues that offer great views overlooking lush river valleys. Unbeatable scenery and delectable cuisine can be had outside the main Ubud hub. Here's our selection of the best Ubud restaurants to please your appetite for only the finest dining venues in and around Ubud.
Interested in this tour? Book it here.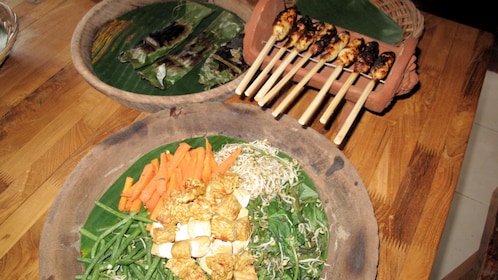 per adult
Free cancellation
Book
Locavore broke grounds in early 2013 as an enterprise by two five-star resort chefs, Eelke Plasmeijer and Ray Adriansyah, who shared the same vision. They set out to passionately create a unique dining scene that serves modern, contemporary European cuisine using locally grown and seasonal ingredients. Inspired by a trending healthy dining concept in the west, they named their restaurant Locavore or 'eat local' and were determined to serve as catalysts between local producers and discriminating diners. Now it is regarded best restaurant in Ubud, featuring a menu that is ingredient-driven, and with their lasting relationships with the farmers, fishermen and artisans they assure their patrons of the freshest of chemical-free seasonal produce and meat from ethically fed farm animals. Delicious mains include slow-braised oxtail with pan-fried gnocchis, green asparagus and eggplant puree, and there's also barramundi and various pork preparations. Must-try desserts include passion fruit sorbet and bitter chocolate ganache. Open for lunch and dinner – bookings are recommended. Read More...
Opening Hours: Mon - Sat 12:00 14:30, 18:00 - 23:00
Location: Jalan Dewi Sita, Ubud
Tel: +62 (0)361 977 733
Bridges Bali is one of Ubud's most famous and scenic dining spots, overlooking the Campuhan River. As one of the best restaurants in Ubud, the multiple-level venue features a dedicated wine bar upfront, and inside you will enjoy a cosy and elegant setting with spaces that also double as an art gallery featuring regular painting, sculpture and artistic photographic exhibits. Bridges Bali serves casual lunches and romantic candlelit dinners with Asian and Western delicacies. There are many seating options, and although you will find romantic settings throughout, most lovebirds will fall for the few smaller nooks at the corners of the upper dining hall, which offer intimate spaces and unique viewpoints over the valley. These mezzanine-like corners also overlook most of the terrace and the other open candlelit tables. Must-tries include pan-fried barramundi, and preludes to the meals include a small amuse bouche topped with pungent blue cheese mousse and slice of prosciutto. Read More...
Opening Hours: 11:00 - 23:30
Location: Campuhan Bridge, Jalan Campuhan, Ubud
Tel: +62 (0)361 970 095
Mozaic essentially presents French-inspired Balinese and Indonesian cuisine to the island's fine dining scene. One of Ubud best restaurants, this award-winning garden restaurant and lounge is tucked away in Ubud's quieter part on Jalan Raya Sanggingan, only several minutes' drive up from the main Ubud hub. Mozaic offers fine dinners in a lush and romantic open garden setting and in a spacious and cosy dining pavilion. Chef-owner Chris Salans presents his fresh approach to French cuisine that incorporates local, exotic Balinese ingredients through a varying menu, together with private dinner experiences. A dedicated lounge is subtly lit by crystal chandeliers, with plush sofas and chic tabletop décor, providing a comfort zone for pre-dinner cocktails with tapas and appetizing bite size delights. Signature cocktails include Mozaic-Roska made with Absolut vodka and passion fruit juice. Mozaic's garden has candlelit tables surrounded with rattan chairs and fire torches. The chef's tasting menu comprises market-fresh ingredients such as blue fin tuna 'tataki style' and seared freshwater yabbies from Sulawesi. Read More...
Opening Hours: 17:45 – 01:00
Location: Jalan Raya Sanggingan, Ubud
Tel: +62 (0)361 975 768
This luxurious restaurant at The Viceroy Bali has a well-deserved reputation for being one of Bali's most romantic restaurants, set amid luxurious Balinese open pavilions topped with high thatched roofs. It offers stunning views over the lush Petanu valley. The menu is based on French cuisine, with inventive Asian twists derived from Balinese, Thai and Japanese cooking. The restaurant serves breakfast, lunch and dinner, and also offers special high teas. As one of Ubud best restaurants, CasCades features full moon dinner and dances monthly, with Balinese Rijsttafel and á la carte dinners accompanied by a two-hour performance from a celebrated local dance troupe from 19:00. A regular degustation menu comprises marinated tomato with goat cheese mousse and herb oil, seared scallops, a lamb rack with prosciutto sweetbreads and black olive sauce, and a chocolate almond marquise or the chef's finest cheese selections with dried pear lavosh. When in Bali, this is a venue to be considered for your next Valentine's. Read More...
Opening Hours: 07:00 - 22:00
Location: The Viceroy Bali, Jalan Lanyahan, Banjar Nagi, Ubud
Tel: +62 (0)361 972 111
Blanco par Mandif serves delicious local Indonesian food but with a twist, by offering a degustation style menu that, until now, you would be more likely to find in a French fine dining establishment.

The restaurant is located in the cultural capital of Bali, Ubud, and the food at Blanco par Mandif is served in the gorgeous Blanco Renaissance Museum where you can look out over the famous Campuhan River. The restaurant has an intimate feel, as it only seats up to 10 diners at one time, so is the perfect place for those looking for an exclusive dining experience. Advanced bookings are a must. Read More...
Opening Hours: 3 sittings daily: 12:00–14:00;?18:00–20:30; 21:00– 24:00
Location: Blanco Renaissance Museum, Jalan Raya Campuhan, Ubud
Tel: + 62 (0361) 4792284
Kubu Restaurant Bali offers scenic riverside views and fine Mediterranean-European dining, attracting honeymooners and foodies alike. As the signature restaurant of Mandapa, a Ritz-Carlton Reserve, this dinner-only venue is located on Jalan Raya Kedewatan, slightly removed from downtown Ubud but still easily accessible by car or motorbike.
Crafted mainly from bamboo, the open-air restaurant's primary soundtrack is provided by the babbling Ayung River. Kubu Restaurant Bali takes its name from the huts local farmers have traditionally used for storing rice and pays tribute to these shelters with nine private dining cocoons, tailor-made for a romantic dinner. Booking ahead is advised for any of the restaurant's 40 seats, and is an absolute must if you plan on dining in one of the sought-after cocoons. Read More...
Opening Hours: 18:00-23:00
Location: Jalan Raya Kedewatan at Mandapa, a Ritz-Carlton Reserve
Tel: +62 (0)361 479 2777
Seniman Coffee Studio serves great cups of Java while in Ubud. The quirky café is located on Jalan Sriwedari. Step into the artistically laid-out space and enjoy vast selections of specialty single-origin coffee from over five different regions in Indonesia, prepared using siphon, pour-over drip, hand-pull and Italian espresso brewing methods. 'Artist' in the local tongue, Seniman is a great stopover where you can enjoy great brews in cosy, artistic interiors with in-house designed furniture and 'up-cycled' glassware. There's a wide selection of beans and designer items for sale at its adjacent store too. At front there's a snug little outdoor balcony, and Seniman's brewing bar features peculiar lab-like apparatuses and brewing siphons. It's a great spot to learn about the craft and process of brewing, and to wordlessly rock away while enjoying the results. Easily one of the best restaurants in Ubud to experience. Read More...
Opening Hours: 08:00 – 19:00
Location: Jalan Sriwedari, Ubud
Tel: +62 (0)361 972 085
Bebek Tepi Sawah is the signature restaurant of the Tepi Sawah Villas in Peliatan, a rice field-filled region southeast of the main Ubud hub. The menu features a wide choice, from contemporary Western to innovative Indonesian and Balinese specialties. Here you will enjoy a relaxing dining experience with settings reflecting Bali's rural countryside. Wooden pavilions dot a vast functioning rice field, offering alfresco dining overlooking the greens, running streams and flowering gardens. The popular crispy deep fried duck is among the main highlights, alongside pork ribs and mixed seafood selections. All dishes are served with spicy Balinese sauces. Open for lunch and dinner, enjoy Saturday evenings at one of the best restaurants in Ubud, with free live dance performances comprising the vivid Joged Bumbung accompanied by a bamboo orchestra. Performances commence 19:30 onwards. Read More...
Opening Hours: 10:00 - 22:00
Location: Jalan Raya Goa Gajah, Banjar Teges, Peliatan, Ubud
Tel: +62 (0)361 975 656
Swept Away Restaurant, located inside The Samaya Ubud, sits on an elevated deck that lets you look out over the picturesque river that runs past this charming part of Ubud. The ambiance here is perfect for anyone looking for a relaxed dining experience that is close to nature, and one of the best things about Swept Away is the sheer number of food choices on offer. Read More...
Opening Hours: 11:00–22.00
Location: Jl. Raya Sayan, Sayan, Ubud, Kabupaten Gianyar, Bali
Tel: + 62 (0361) 973606
Hujan Locale is the latest sensation to hit the specialty dining scene in Ubud, with acclaimed Chef Will Meyrick (of Sarong and Mama San fame) behind the scenes. Long-time Ubud foodies may remember the old spot where Jendela House once stood, right across the road from Fair Warung Bale. Now, Hujan serves as the go-to place for heritage Asian cuisine with a twist, where diners are treated to a journey of flavours from around the continent.
The restaurant carries a vintage theme, with colonial style wooden doors and windows, and a small portico acting as its main entrance. Inside, wooden tables and chairs dominate the main lower hall, and upstairs is the coveted space, where you have a more airy atmosphere with one side overlooking Sriwedari, and the opposite offering an exotic view to a temple complex that is part of a Balinese family compound. Read More...
Opening Hours: 12:00 – 15:00, 18:00 – 23:00
Location: Jalan Sri Wedari 5, Ubud
Tel: +62 (0)361 849 309 2
Rate This Place:
( votes)